Drunken St. Patrick's Day
« previous entry | next entry »
Mar. 17th, 2008 | 03:31 pm
location: gotta go!
mood: drunk
music: leprechauns singing to me...

I decided to create a recipe from scratch that would be more Irish than just pouring in some baileys (not that i have anything against baileys). i thought stout, whiskey and then treacle. even better, all together. so the cake is stout and treacle with some spice, all golden and rich. my only disappointment with the way they baked up was that they are a little too buttery, something i will easily remedy next time i bake them. I then decided the icing needed to be light and creamy with whiskey as the flavouring, so i took this opportunity to try a european style buttercream*. I am thrilled with the result. i made green fondant shamrocks for the toppers - some lucky tester will find a 4 leaf clover and that individual gets to choose the next flavour for testing - anything they can dream up!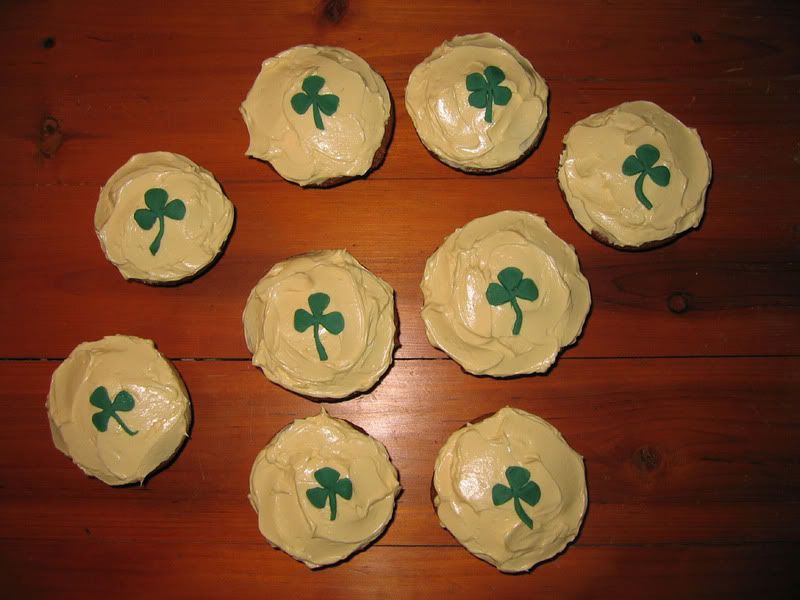 * ON Buttercream: there are three basic types of icing, all going by the name "buttercream". they are not at all the same. 1. made with egg, a hot sugar syrup and LOTS of butter - european style - which is very light and creamy and people often say it's less sweet (i call bullshit on that) 2. made with butter, add icing sugar, milk or cream - old fashioned - what i grew up making it is heavier, easily made fudgey or lemony or whatever, and has way less butter in. 3. made with shortening, sugar, chemicals and not much else - commercial - it usually tastes like the crap it is and has put many people off "buttercream" icing for life.
Comments {2}